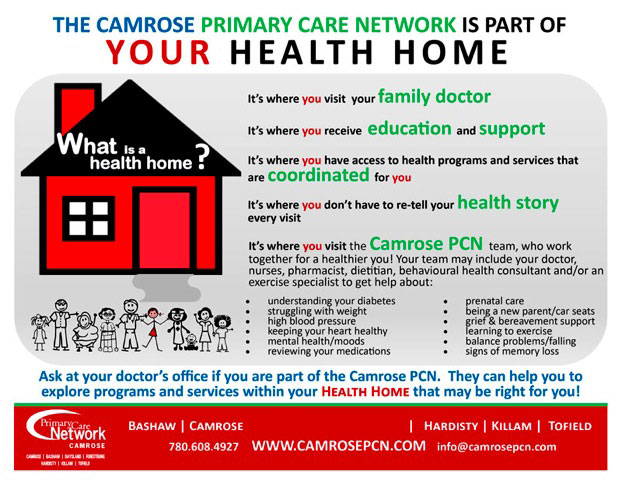 What is Your Health Home?
When you think of "home," what do you think of? A place where you receive care and support? A collection of goods and services that are personalized to you? A museum of your story? Your personal home can be all of these things, but so can your Health Home.
Your Health Home is not necessarily a bricks-and-mortar building. It's your health network: a network of your family doctor, health care providers, and community organizations all working together to provide you with the best possible primary care. It's where you visit your family doctor or healthcare providers. It's where you receive education and support. It's where you have access to health programs and services that are coordinated for you. It's where you don't have to re-tell your health story each visit.
A family doctor is an important part of a Health Home. Research shows that having a family doctor and seeing them regularly as part of your Health Home keeps you healthier as you age, helps you live longer, helps prevent future illness, catches problems early, and can keep you out of the hospital. Not only is your family doctor a reliable source of information, but he or she knows you and your family. Visits to your family doctor help you stay accountable for those healthy decisions that can be difficult to follow through on. Using their knowledge of your past health issues and history, they can more accurately prevent health issues before they happen. When you have a family doctor, you're more than a stranger with a chart.
"Although health home definitions vary and continue to evolve, at the heart of a health home is a family physician practice that is committed to organizing and coordinating care based on patients' needs and priorities," states Dr. Chris Nichol, family doctor and Camrose PCN Physician Lead. "The Camrose PCN and its associated family physician clinics will do our best to communicate directly with patients and their families, while integrating care across settings in collaboration with healthcare professionals and key community stakeholders."
Another key part of your health network and your Health Home is the Camrose PCN. The PCN offers a team-based approach to your healthcare. Your family doctor works together with other healthcare professionals to cover the big picture of your health. The Camrose PCN can help you understand your chronic illness, learn about your medication, make healthy food choices, manage your high blood pressure, handle your mental health, learn to care for your pregnancy, and many other health concerns.
"A health home is a way to provide high quality healthcare services that best meet the needs of patients and families. It is not just a building, house, or hospital," says Stavey Strilchuk, Camrose PCN Executive Director. "It is a priority of the Camrose PCN to ensure a good health home is organized to create the best primary healthcare value in a caring atmosphere for you as the patient, as well as an atmosphere of mutual respect and responsibility amongst patients, family physicians, and healthcare and community providers."
Next time you visit your family doctor in Camrose, Bashaw, Forestburg, Daysland, Killam, or Hardisty, ask if you are part of the Camrose PCN. Together, we can help you explore the programs and services within your Health Home that are right for you!
For more information:
Camrose PCN
780-608-4927
info@camrosepcn.com