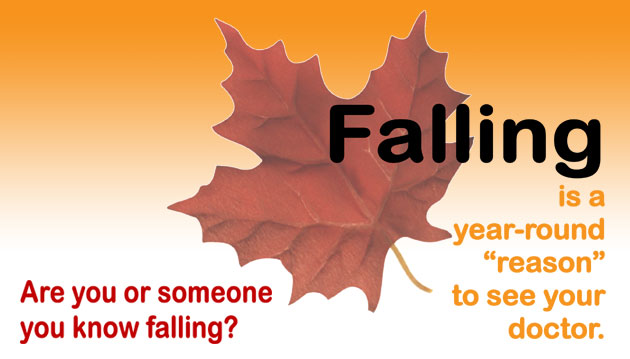 If you have an Urgent Situation of someone falling: Call 811 or
HEALTH LINK Toll-free: 1-866-408-5465 (LINK)

Fall Prevention Program
How it works:
Program Goal: For individuals to stay safe in their own homes
Designed for individuals age 65 and above who have had a fall or at significant risk of falling;
Individuals can self refer or be referred by any family member, healthcare provider or their family doctor;
A Nurse Practitioner (NP) will screen referrals to determine if the individual is appropriate for the Fall Prevention Program or more suited to an alternate program in the community;
If appropriate the individual will be seen by the NP and a Care of the Elderly Trained Physician for an assessment;
Fall risk factors will be identified and an individual care plan developed to reduce their risk of falling and subsequent injury;
The individual may be referred to the Camrose PCN exercise specialist and/or community partners trained in fall prevention interventions and risk reduction;
The assessment letter identifying falls risk factors and plan will be sent to the individual's family doctor;
The RN will follow up at three (3) months with a phone call which is followed by a six (6) month reassessment.
The Clinic will follow up by completing a short questionnaire by phone in 3 months after assessment and then again in 6 months, 9 months and one year.
"Falls are not an inevitable result of aging, but the risk of a fall can increase as one ages. Older adults value their independence and a single fall can result in significant disability and loss of function. If you fall once you are more likely to fall again. There has been tremendous research and interest in identifying risks for falls and what we can do to lower that risk. A comprehensive falls risk assessment and targeted interventions for those identified at high risk is a step in the right direction." Dr. Val Smith
How to prevent falls:
There are many things you can do to help reduce your risk of falling:
Watch your step! While walking seems like a natural thing to do for many people – it's important to pay attention to how you walk. Wherever you are keep pathways, halls and stairways well lit and free of clutter. Watch out for ice, cracks and uneven surfaces while walking. Walk with your arms out to your sides for balance (not in your pockets). Walk flat-footed and take short steps and walk slowly. As you are walking - keep your head up and concentrate on balance.
Ask your healthcare provider about which type of grab bar to use in your bathroom.
Have your eyes checked every year.
Wear shoes that support your feet and have a closed heel. Avoid rushing and doing too many things at once.
Speak up about dizziness! Tell your doctor and take action tell your doctor if you often feel dizzy or lightheaded. There are many different causes of dizziness, including some medications. Ask your healthcare provider to test your blood pressure with you lying down and standing up. You may feel dizzy if your blood pressure drops quickly when you get up. After lying in bed or sitting in a chair, clench your fists and circle your ankles 10 times, then take your time and get up slowly. Dehydration can make you dizzy. Drink 6 to 8 glasses of fluids including water each day, or as directed by your healthcare provider.
Keep active! Regular physical activity and exercise can increase muscle strength, improve balance and help prevent you from falling. Ask your doctor or healthcare provider about the best type of exercise program for you. Do at least 30 minutes of activity every day.
Check your medication. Once a year, have your doctor or pharmacist review all medications. As you age, the way some medications affect you can change and increase your risk of falling. Medications include prescriptions, over-the-counter pills, vitamins and herbal supplements. Medications that relax you, help you sleep or improve your mood can increase your risk of falling. Alcohol affects medication be careful.
Never sit for longer than an hour at a time. It is very important that you get and move around regularly to promote circulation and mobility.
Talk to your family doctor or contact the PCN
Camrose PCN West End Clinic
Phone 780 608-4927
Additional Resources
Canadian Mental Health Association - 780-672-2570
Alberta Mental Health - 780-679-1241
Crisis Line - 1-877-303-2642
Senior's Abuse Helpline - 1-780-454-8888
Elder Abuse Intervention Team - 1-780-477-2929
Elder Abuse Website
For more information on tips to keep active and falls prevention, visit
findingbalancealberta.ca
Healthcare professionals:
Falls Risk Management Pathway
Funded By
Covenant Health Network of Excellence in Seniors' Health and Wellness Innovation Fund